Product Description
INFLATABLE CAMPING TENT 4-PERSON
The Dometic Hayman 4 AIR has AirFrame technology to ensure reliable performance and a simple set up. Protect yourself from the elements with the exclusive Weathershield™ 68D material, featuring large windows for ventilation on all sides, allowing plenty of airflow during hot weather. The inflatable canopy provides extra covered living space, making this tent great for short or long stays.
WEATHERSHIELD™ 68D MATERIAL
MULTI-POINT INFLATION FOR EASY SETUP
Multi-Point inflation tents are inflated one AirPole at a time via external inflation points, which also double as deflation points. AirPoles create a strong tent structure that can withstand the elements, while also greatly reducing set-up time. Each AirPole is made of a strong TPU inflation tube that is zipped into a tough, reinforced polyester cover. This is then zipped into a heavy-duty polyester sleeve in the tent. The result is an extremely well protected, durable AirFrame which requires little to no maintenance.
Provides ventilation and comfort and has a fly screen to keep insects out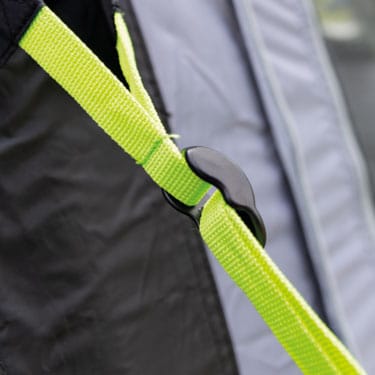 Set-up in seconds. Peg the bottom strap taut and adjust the buckle to apply tension
WEATHERSHIELD 68D MATERIAL
Super lightweight, extremely durable, advanced UV protection and highly weather-resistant polyester
Generous dimensions provide lots of internal living space, maximising the liveable space of your tent
4-person camping tent
Weathershield™ 68D polyester material
Multi-Point Inflation AirFrame technology
Generous internal dimensions include height for adults to stand up
Great long or short stay tent for couples and families
Large oversized windows allow airflow and increase ventilation
THE COMPACT SOLUTION TO CAMPING WITHOUT COMPROMISE
Great for short or long stays, the Dometic Hayman 4 AIR is packed full of features that are sure to please everyone from beginners to camping enthusiasts. Couples, friends and families will love how easy it is to set up. The Dometic Hayman 4 AIR is an inflatable tent designed with AirFrame technology ensuring a simple set up and take down every time. Made with Weathershield™ 68D material that is durable, lightweight and weather-resistant with UV protection. Large oversized windows, combined with the darkened inner tent help to regulate the interior temperature, and increase airflow to guarantee a good night's sleep. Open the window gussets and peg out the eyelets to allow privacy and airflow at the same time. A sewn-in groundsheet and variable inner tent come as standard. Whether you are planning a long holiday or an unforgettable weekend experience, Dometic has a tent to suit.
SKU number 9600027337
Scope of delivery 1 tent; 1 inner tent; 1 2L pump; 1 canopy pole set; 1 peg pack; 1 manual; 1 carry bag
Product Description Inflatable camping tent 4-person
Dimensions product depth 4100 mm
Dimensions product height 1950 mm
Dimensions product width 3000 mm
Net weight 18.61 kg
Fabric type Weathershield™ 68D
Frame Type Inflatable
Number of Persons 4
EAN-13 9331391009329
Dimensions parcel depth 780 mm
Dimensions parcel height 400 mm
Dimensions parcel width 400 mm
Parcel weight 18.61 kg