Product Description
INFLATABLE CAMPING TENT 6-PERSON
The Dometic Stradbroke 6 AIR TC is a customizable 6-person inflatable tent for friends or families. AirFrame technology and strong webbing straps ensures reliable performance and a simple set up. Protect yourself from the elements while enhancing interior comfort thanks to the high-quality Weathershield™ TC material. Large vented windows increase airflow to help reduce condensation and regulate internal temperature.
MULTI-POINT INFLATION FOR EASY SETUP
Multi-Point inflation tents are inflated one AirPole at a time via external inflation points, which also double as deflation points. AirPoles create a strong tent structure that can withstand the elements, while also greatly reducing set-up time. Each AirPole is made of a strong TPU inflation tube that is zipped into a tough, reinforced polyester cover. This is then zipped into a heavy-duty polyester sleeve in the tent. The result is an extremely well protected, durable AirFrame which requires little to no maintenance.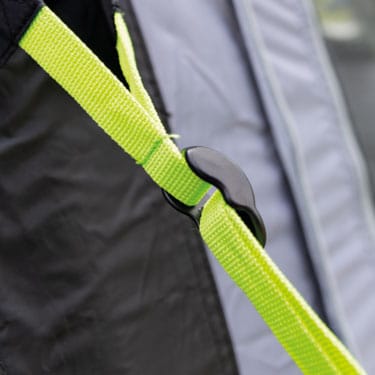 Peg the bottom strap taut and adjust the buckle to apply tension
WEATHERSHIELD TC MATERIAL
Technical Cotton material helps to reduce condensation and regulates the interior temperature
Large oversized windows and gussets to improve airflow and ventilation
Durable AirPoles are inflated individually for the simplest set-up and take-down
Generous dimensions provide lots of internal living space, maximising the liveable space of your tent
6-person camping tent
Durable and fully breathable Weathershield™ TC material
Multi-Point Inflation AirFrame technology
High internal dimensions for adults to stand up
Weather protected entrance
Large oversized windows with built-in gussets to improve airflow and ventilation
Designed for Australian conditions with high-quality flyscreens
THE ULTIMATE SOLUTION TO CAMPING WITHOUT COMPROMISE
The Dometic Stradbroke 6 TC AIR inflatable tent provides ultimate versatility on your family and friends camping holiday. The latest AirFrame technology offers incredible strength, great durability and with no poles to lose or break, it's extremely reliable too. You can set up in a matter of seconds with the Quickpitch™ Guying System. Simply peg the bottom strap taut, adjust the buckle and you're ready to kick back and enjoy your camping holiday. Designed with durable, UV protected and weather-resistant Weathershield™ technical cotton (TC), you will be sheltered from the elements and kept dry. The weather protected entrance makes getting in and out of the tent easier. Get a good night's sleep due to increased airflow via the multi-level ventilation flyscreens and removable inner tent allowing a darkened sleeping space. Whether you are planning a long holiday or an unforgettable weekend experience, Dometic has a tent to suit.
SKU number 9600027339
Scope of delivery 1 tent; 1 inner tent; 1 2L pump; 1 canopy groundsheet; 4 storm straps; 1 peg pack; 1 manual; 1 carry bag
Product Description Inflatable camping tent 6-person
Dimensions product depth 6200 mm
Dimensions product height 2100 mm
Dimensions product width 3800 mm
Net weight 41.28 kg
Fabric type Weathershield™ 150D
Frame Type Inflatable
Number of Persons 6
EAN-13 9331391009350
Dimensions parcel depth 850 mm
Dimensions parcel height 480 mm
Dimensions parcel width 480 mm
Parcel weight 33.52 kg