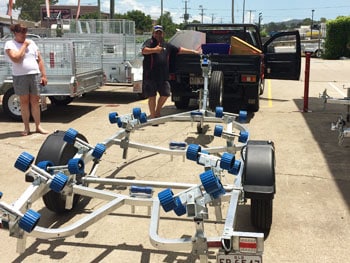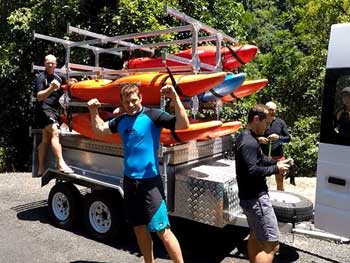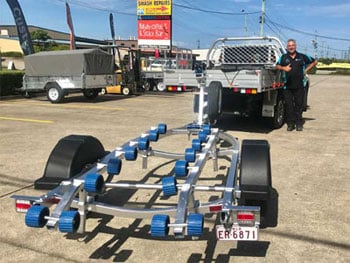 Tel : (04) 27 159 666
Email : [email protected]
Address :
8 Dixon St, Strathpine, QLD 4500
(Next to Strathpine Centre)
Tel : (04) 27 159 666
Email : [email protected]
Address :
8 Dixon St, Strathpine, QLD 4500
(Next to Strathpine Centre)
BOAT, TINNY & JETSKI TRAILERS FOR SALE

6300 Boat Trailer with Disc Brakes
1400KG ATM | Galvanised | Suits 5.2M – 6.2M Boats | Skids or Wobble Rollers
$65.36

p.w. – 0% Interest* Finance
6500 Tandem Axle Boat Trailer with Disc Brakes
Suits 5.5M – 6.2M Boats | Galvanised | Wobble Rollers
From
$92.28‬

p.w. – 0% Interest* Finance
Hit the Waves thanks to Stonegate Industries
Boat Trailer Brisbane
Are you looking for an effective and durable trailer to safely transport your boat or water pleasure craft? With over 10 years of experience and expertise working in the trailer industry the professionals at Stonegate Industries are boat owners best choice for boat transportation solutions you can rely on.
Seamlessly fabricated from rust-resistant galvanised steel and capable of carrying weights of up to 349kg safely our boat trailers have helped Brisbane residents across the city reach the coast and sail off into the sunset. To gain a deeper knowledge of our salt, and fresh, water-safe boat trailers call us on 07 3800 1283.
Our product range includes: Box Trailers, Tandem Trailers, Boat Trailers, Jet Ski Trailers, Hydraulic Tipper Trailers, Machinery Trailers, Heavy Duty Trailers, Builders Trailers, Fully Enclosed Trailers
Click here to find out our store locations.