HUGE SAVINGS ON ALL GLAMPING TENTS
+ FREE Delivery
$599.00
$699.00
$999.00
Dimensions : Diameter (footprint): 3.5m | Height (apex): 2.3m | Height (doors): 1.65m
Shop Now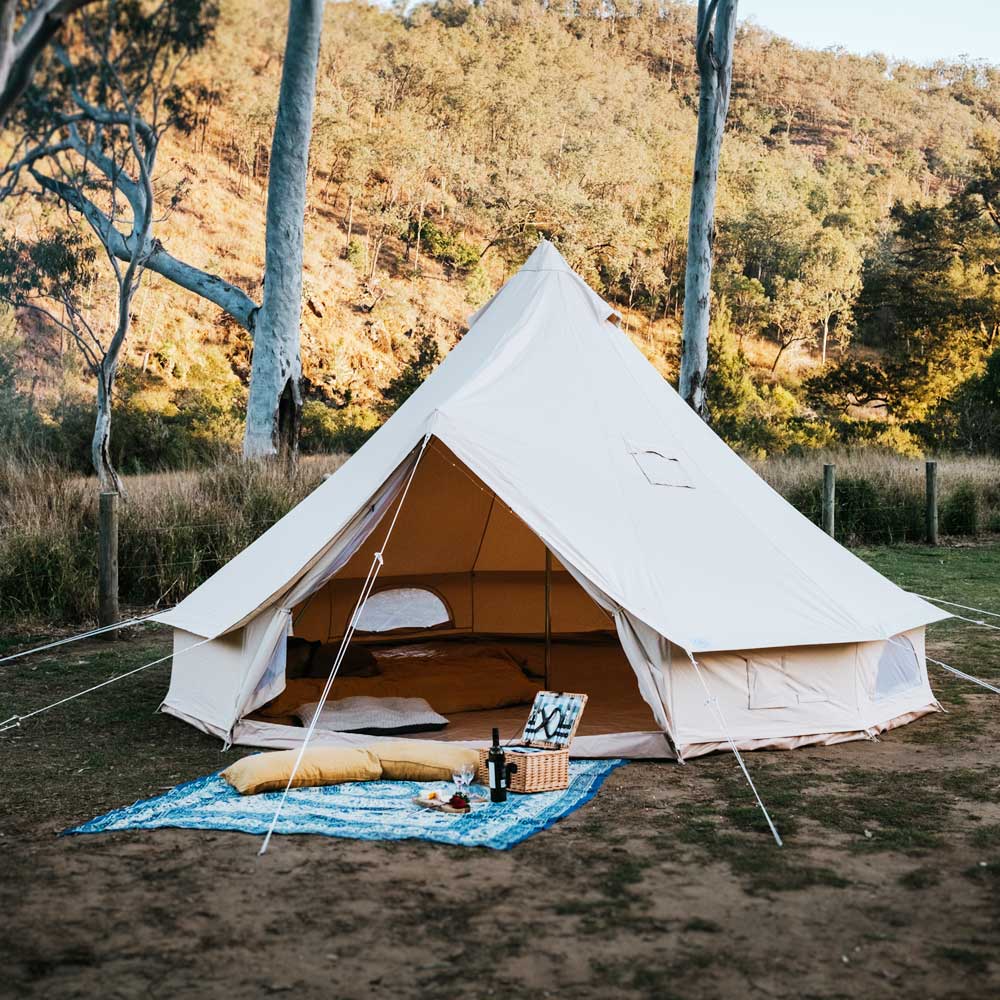 + FREE Delivery
$1049.00
$1249.00
$1399.00
Dimensions : Diameter (footprint): 4m | Height (apex): 2.5m | Height (doors): 1.55m
Shop Now
+ FREE Delivery
$1299.00
$1399.00
$1499.00
Dimensions : Diameter (footprint): 5m | Height (apex): 3m | Height (doors): 1.7m
Shop Now
Welcome to the future of camping
These family-sized, heavy-duty canvas bell tents / glamping tents are built with stability, versatility, and ease-of-use in mind. These quality camping tents are tried and tested by our very own team to withstand the harsh Australian weather.
Our beautiful canvas glamping tents will keep you sheltered, dry and comfortable while you maximise your time in the great outdoors. With plenty of ventilation and high-quality insect screens, you can keep the breeze coming in while keeping the mozzies out.
highest quality materials Glamping Tents
If the adventurer in you seeks the outdoors, yet you crave a good night's sleep, our bell tent has you covered. We use only the highest quality materials and don't cut corners when it comes to safety. Our 100% cotton canvas is fire retardant, UV protective and uses a thicker canvas (360GSM) than most of our competitors to protect against the harsh Australian sun.
"
Be a green camper and avoid cheap, plastic alternatives.
quick & easy setup camping tents
You will be surprised by how easy our tents are to assemble, even on first use. They have just 3 main components and come conveniently packaged in a sturdy canvas carry bag. Just throw in the car and go!
The bell tent can be assembled by one person in just 15 minutes, and taken down even faster. Our zips and insect screens are robust and secure, meaning you can use them time after time with worrying about material degradation.
Our very own team have tried and tested these sleek, beautiful tents in national parks, on beaches, parklands and mountain sides of South East Queensland to push it to it's limits to ensure every aspect of your experience is top-rate (and Instagram-worthy, of course!).
*As a test, our team set up one of our 5m Bell tents on the top of a hill overlooking the Glasshouse Mountains in Queensland's south-east. We left it there for over three months, during which we saw some of our wildest tropical summer storms, heavy rain and strong winds battering the coast. Upon returning to the tent, we were pleased to see it dry inside and out, and damage-free. In fact, it looked as though we'd erected it that same day! This is how we know you will be over the moon with your Stonegate glamping tent – it is built for purpose, and built for our Australian backyard.
Bell tents that are perfect for Events and functions
Gone are the days of single-use, throw away tents for festivals or events. Be a responsible camper or event organiser and invest in a long-term outdoor solution for your next party, festival or outdoor event. These tents are easy to clean, robust enough to withstand even the rowdiest campers, and designed to be used over, and over, and over.
In addition to withstanding our hot climate, be confident in our glamping tents keeping you warm and comfortable in the southern states too! Not only is canvas a great insulator, our tents also have the capability to house wood burner heaters.